CARL ORFF – Carmina Burana, Music Therapy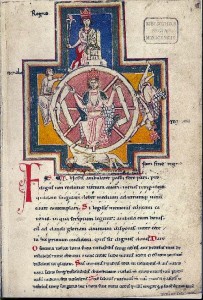 > CARMINA BURANA, Text with Translation <
Carmina Burana (pronounced /ˈkɑrmɨnə bʊˈrɑːnə/), Latin for "Songs from Beuern" (short for: Benediktbeuern), is the name given to a manuscript of 254 poems and dramatic texts from the 11th or 12th century, although some are from the 13th century. The pieces were written almost entirely in Medieval Latin; a few in Middle High German, and some with traces of Old French or Provençal. Many are macaronic, a mixture of Latin and German or French vernacular.
They were written by students and clergy when the Latin idiom was the lingua franca across Italy and western Europe for travelling scholars, universities and theologians. Most of the poems and songs appear to be the work of Goliards, clergy (mostly students) who set up and satirized the Church. The collection preserves the works of a number of poets, including Peter of Blois, Walter of Châtillon and the anonymous one, referred to as the Archpoet.
The collection was found in 1803 in the Benedictine monastery of Benediktbeuern, Bavaria, and is now housed in the Bayerische Staatsbibliothek in Munich. Along with the Carmina Cantabrigiensia, the Carmina Burana is the most important collection of Goliard and vagabond songs. Read More: > HERE <
Carl Orff – Carmina Burana
The Orff method, also known as Orff-Schulwerk or Music for Children, is an approach to music education conceived by the German composer Carl Orff (1895-1982). It was developed in the 1920s and 1930s while Orff was music director of the Günther-Schule, a school of dance and music in Munich. The guiding principles were contained in his publication Orff-Schulwerk (Mainz 1930-5), to which revisions came later. The first of many foreign versions was Music for Children (Mainz 1956-61), an adaptation in English by Doreen Hall and Arnold Walter of the University of Toronto.
Orff's approach, developed for children but latterly used also with adults, was based on his belief that the easiest method of teaching music is to draw out the student's inherent affinities for rhythm and melody and allow these to develop in natural ways, leading the child by his or her intuition from primitive to more sophisticated expression through stages parallel to western music's evolution. Orff accomplishes this by means of a carefully planned program, beginning with speech patterns, rhythmic movement, and two-note tunes, then moving logically into pentatonic melody. Adult pressure and mechanical drill are discouraged. Improvisation is encouraged.
Major and minor melody are introduced as the final stage of the program. Orff designed a special group of instruments, including glockenspiels, xylophones, metallophones, drums, and other percussion instruments to fulfill the requirements of the Schulwerk courses.
VEDIC MUSIC and Relation to Music Therapy:
Indian traditional systems of health and healing also include various musical treatment approaches. A few healing traditions are also integrated in modern music therapy practice in India. Vedic traditions dating back roughly 5000 years ago had a great intuition about the power of sound and intonation.
The Vedic chants and music which had more sound and rhythm, used as a source of healing and up liftment reflected the intuition that each intonation and inflection of voice could have beneficial or adverse effects. Music Raga Therapy a, an extinct sanskrit treatise, as its name implies dealt with curative ragas and suggested specific ragas with specific therapeutic and a prophylactic medium in clinical and educational settings.
The Vedic system of health care concerned with healthy living and not disease specific takes into account the patient's entire personality, body, mind and the spirit and guides the participants for a healthy living along with the therapeutic measures that relate to physical, mental, social and spiritual harmony.
Nada Yoga is the core of Dhrupad, the most ancient style of Hindustani Classical Music. Originally only sung by priests in the temples as an act of worship, it induces a deep meditative state in the singer as well as the listener. 
The importance of Orff-Schulwerk in the community, for special needs and in music therapy.
Which are the features of Carl Orff's and Gunild Keetman's ideas relevant for the work in community and therapy? A child who is mentally or physically handicapped, emotionally or sensorially disabled or autistic, is never just only that. The characteristics of a person that are not expressed in these terms, however, are precisely the ones that make musical communication and thus a connection with the so-called "normal" people possible. A historical review shows the sources from which the adaptation of the Schulwerk for the work with handicapped and disturbed children and young people was made possible and meaningful.
A brief section intends to define the fields of "Music Education" – "Music in special needs and community" – "Music Therapy" in order to distinguish them and finally point out the contents they have in common. Read More: > HERE <
The author uses quotes by Carl Orff in order to document the basis for therapeutic work in his ideas and describes how pedagogues and therapists, from the early sixties until today, have developed them for and together with different groups with special needs:
The multi-sensorial approach through speech, free and bound rhythm, movement, singing and playing instruments provides possibilities for spontaneous creative play in a social context, even if one important sensorial area is severely damaged.

Every member of an integrative music and movement group is participating actively in a creative process.

The instrumentarium allows participants to play together in a spontaneous way.

Relationship through musical expression and play as an encounter between two people which is the basis for emotional development.

Musical reception and expression is independent of intellectual capacity, age and previous musical experience.
This entry was posted by admin on 2. Februar 2010 at 16:58, and is filed under Musik,-Takt & Tonlehre. Follow any responses to this post through RSS 2.0. Responses are currently closed, but you can trackback from your own site.
Comments are closed.