Jean Ziegler: The Empire of Shame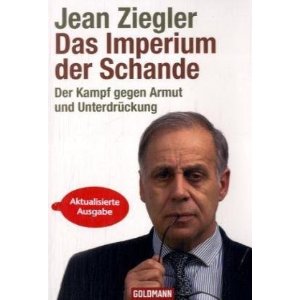 www.unwatch.org/The Right of Food
Jean Ziegler (born April 19, 1934) is a former professor of sociology at the University of Geneva and the Sorbonne, Paris. He was a Member of Parliament for the Social Democrats in the Swiss federal parliament from 1981 to 1999. Nominated by Switzerland, he was the United Nations Special Rapporteur on the Right to Food from 2000 to April 2008. On 26 March 2008, he was elected for one year into the Human Rights Council Advisory Committee. Despite objections from UN Watch he received 40 out of 47 votes to finish first in a field of seven candidates. He is also member of the advisory board of the human rights organization Business Crime Control. Read More: > HERE <
The Codex Alimentarius (Latin for "food code" or "food book") is a collection of internationally recognized standards, codes of practice, guidelines and other recommendations relating to foods, food production and food safety. Its name derives from the Codex Alimentarius Austriacus. Its texts are developed and maintained by the Codex Alimentarius Commission, a body that was established in 1963 by the Food and Agriculture Organization of the United Nations (FAO) and the World Health Organization (WHO). Read More: > Here <
Jean Ziegler: "This World Order is not just murderous, it is absurd" – Jean Ziegler is a senior professor of sociology at the University of Geneva and the Sorbonne, Paris. He is one of the leading protagonists in the world for the anti-globalization movement and has taken a continued stand for human rights, the right to food and a decent livelihood for all people. In 2000, he was appointed by the United Nations Commission on Human Rights as the UN Special Rapporteur on the Right to Food. He kept this position until March 2008 in spite of much hard criticism from the neoliberal leaders of the U.S. and the UN for his categorical stand for equal rights for all people. His continued fight against poverty, hunger and chronic malnutrition in the world has been a constant embarrassment to the West.
He is now the Swiss member of the UN Human Rights Council. His is one of the very few voices heard on the international scene speaking out loudly against the criminal financial system that has put the world in its present tailspin with hunger and lack of human rights, devastating a continually increasing mass of the world's 6.6 billion population. Unfortunately he is not very well known in the Anglophone world, where, for obvious political reasons, his humanitarian message is hushed up. He says in "Empire of Shame": "One thing is certain: world agriculture, in the current state of productivity, could feed twice the number of today's global population. So it is not a matter of fate: hunger is man made."
"Empire of Shame – A Conversation with Jean Ziegler" He has written several books on the lack of justice in the world, condemning the vicious global power system that allows close to a billion people to be the chronic victims of hunger and permanent malnutrition and denouncing crimes committed in the name of global finance and capitalism.
See: Hunger in the Midst of Plenty, By Girish Mishra. FULL ARTICLE: * HERE *
> Books from Jean Ziegler by Amazon < / Codex Alimentarius Video
In your opinion, has anyone measured the scale of the impact of this crisis on the South? Jean Ziegler. "When the rich lose weight, the poor die," says a proverb. World hunger is increasing at a breathtaking rate. Every five seconds a child under ten dies of hunger in the world and 100 000 people die every day from hunger or its immediate after-effects.
Since 2000, the West said there was no money. However, on October 12, at the Élysée Palace, in three and a half hours, the 27 EU countries released €1 700 billion for credit to be used between banks and to raise the floor of pure capital for the banks from 3 % to 5%. 1% of these €1 700 billion would suffice to eliminate the eight tragedies afflicting the Third World countries. This world order is not only mortal, it is absurd.
Comments are closed.