SAVE MOTHER EARTH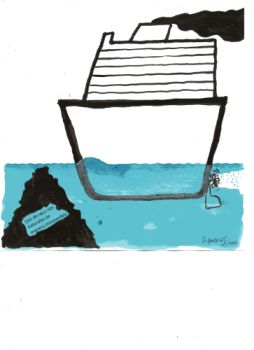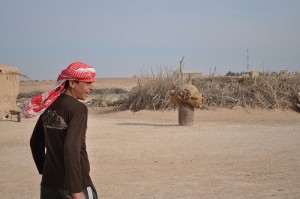 Through coverage of issues like food security, extractive industries, biodiversity and climate change, IPS aims to give a voice to people whose stories are seldom heard. IPS also hopes to highlight the various challenges they face in this globalised world: health and food insecurity, environment degradation, and poverty.
2011 – A Year of Weather Extremes, with More to Come
Analysis by Janet Larsen and Sara Rasmussen*
WASHINGTON, Feb 1 – The global average temperature in 2011 was 14.52 degrees Celsius (58.14 degrees Fahrenheit). According to NASA scientists, this was the ninth warmest year in 132 years of recordkeeping, despite the cooling influence of the La Niña atmospheric and oceanic circulation pattern and relatively low solar irradiance.
MORE >> http://ipsnews.net/news.106616
OP-ED: After Durban, Latin America Looks Towards Rio+20
Ede Ijjasz-Vásquez*
WASHINGTON, Jan 31 (Tierramérica) – After the climate change negotiations in Durban, South Africa in December, there is space to continue advancing in the short and medium term. Now the attention of Latin America and the rest of the world is turned towards the United Nations Conference on Sustainable Development taking place this June in Rio de Janeiro.
In Durban, delegates from 194 countries agreed to develop a new global climate pact by 2015, which would enter into force in 2020. MORE >> http://ipsnews.net/106606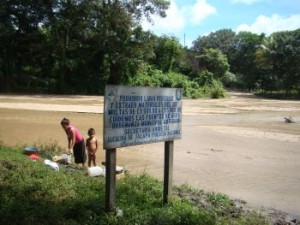 Local residents continue to use water from the depleted Coco River, despite the signs prohibiting it.
http://en.wikipedia.org/Right_to_water This article is about a right to water as a human right under international law. For a discussion of water usage laws in common law, see Water right.
NICARAGUA-HONDURAS: Re-Greening the Border
José Adán Silva*
MANAGUA, Jan 31 (Tierramérica) – Ignacia Matute looks back nostalgically on the days when the hills around her home in northwestern Nicaragua were blanketed in green, and she woke every morning to the sounds of birds singing in the treetops and the rushing waters of the nearly Coco River.
MORE >> http://ipsnews.net/news.106604
CUBA: Adapting to Climate Change Proves a Complex Challenge
Patricia Grogg
SURGIDERO DE BATABANO, Jan 30 – No one who lives in this fishing village on the south coast, 70 km from the Cuban capital, can forget the devastation wrought by hurricanes in 2008.
Official estimates indicate that 2.32 percent of Cuban territory may be permanently under water by 2050. If the necessary adaptation measures are not taken, as many as 79 coastal settlements will be affected and 15 will completely disappear.
People living in low-lying coastal areas are most exposed to sea-level change.

She hopes and believes the water won't reach her new house.

In the wake of a hurricane in Surgidero de Batabanó.

Risk evaluation is a first step towards a climate change adaptation plan. Credit: Jorge Luis Baños/IPS
MORE >> http://ipsnews.net/106593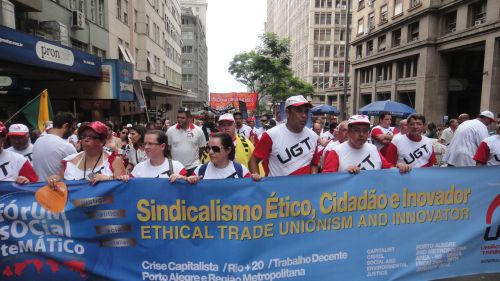 Labour and other activists flood the streets of Porto Alegre in environmental protest.
Thematic Social Forum Awash with Criticism for Green Economy
Clarinha Glock*
PORTO ALEGRE, Brazil, Jan 30 (Tierramérica) – Critical voices raised against what was dubbed "the gospel of green capitalism" resonated in every discussion and street march held during the Thematic Social Forum, which brought thousands of activists to the capital city of the state of Rio Grande do Sul, in southern Brazil.
Spurred by the global economic and financial crisis, participants at this year's thematic edition of the World Social Forum, which ran from Jan. 24th through the 29th, called on governments to implement changes in production and consumption, even as they were sceptical that a commitment along those lines could be secured at the United Nations Conference on Sustainable Development (Rio+20), scheduled for June in Rio de Janeiro.
Professor Edgardo Lander, of the Central University of Venezuela and a member of that country's Social Forum, said there was "an attempt to rebuild capitalism with a new, green face."
"Rio+20 comes at a time when capitalism faces a profound crisis and when the severe problems arising from the limitations of growth and the destruction of the conditions that make life on the planet possible are more evident," he told Tierramérica.
In this context, "green capitalism" offers a solution to the severe crisis, primarily of the financial sector, through the increasing commodification of everything from education and healthcare to the traditional knowledge of indigenous peoples, he said.
MORE >> http://ipsnews.net/news.106591
U.N. Panel Launches Blueprint for Sustainable Development
Thalif Deen
UNITED NATIONS, Jan 30 – A long-awaited report by a U.N. high-level panel on global sustainability recommends several far-reaching proposals, including the establishment of new institutions and the creation of global indicators, aimed at protecting the world's environment and strengthening the U.N.'s sustainable development strategy.
MORE >> http://ipsnews.net/news.106590
THEMATIC SOCIAL FORUM: Working Towards a Never-Ending Democracy
Antonio Martins
PORTO ALEGRE, Jan 27 – For five centuries, Europe has taken it upon itself to enlighten the world, teaching it ways to address and overcome crises, from ideas and wars to missionary work and genocides.
MORE >> http://ipsnews.net/news.106576
Some stories in this selection were produced by Tierramérica, a specialised information service on environment and development created by IPS in Latin America and sponsored by UNEP, UNDP and the World Bank. This newsletter includes independent IPS news coverage financed by the Finnish Ministry of Foreign Affairs.
These newsletter includes news coverage which is part of a project funded by the European Union
The contents of this news coverage, including any funded by the European Union, are the sole responsibility of IPS and can in no way be taken to reflect the views of the European Union.
Read more IPS reporting of environment news at: http://www.ipsnews.net/environment.asp
http://www.stwr.org/imf-world-bank-trade
http://www.facebook.com/UN Department-of-Economic-and-Social-Affairs DESA

http://www.amnesty.org/en/economic-social-and-cultural-rights
http://www.facebook.com/ipsenvironment
http://twitter.com/ipsenvironment
http://www.facebook.com/road2rio20
http://www.scidev.net/en/science-and-innovation-policy/science-at-rio-20
Rio+20: Is science getting a say? There's quite a bit about science in the first draft of the Rio+20 negotiations http://www.facebook.com/scidevnet http://twitter.com/scidevnet