Pflanzen&Gewürze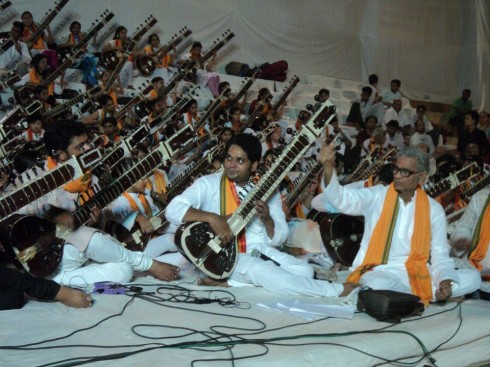 Dear Friends,
We are in Varanasi now and wish all of you. We are happy to inform you that our tour for Europe this year will be in October/ November 2012. So we are starting now for booking the Concert dates of Europe and just like to inform you that if you want to book any concert of us then please contact us soon as now we are booking the dates.
We are coming three musician Pandit Shivnath Mishra, myself Deobrat Mishra on Sitar and Prashant Mishra on Tabla. So please contact us soon for any information you need.
Hope to hear from you soon.
Yours, Deobrat Mishra
Sitar Artist.
Contact us at: mishramusic@hotmail.com
Website: www.music-of-benares.com
Cell: 0091-9451586700
Note: we are also sending you a attachment of recent concert photos and Video Link on youtube we did with 108 Sitar players in Varanasi to save holy River Ganges. Please have a look. You can see more picture of it on my facebook account: Deobrat Mishra
My father Pandit. Shivnath Mishra made a history in Varanasi-India to conduct a orchestra of 108 sitar players. Total musician where 151 including Tabla players and Flute players.
Varanasi (Sanskrit: वाराणसी ) is a city situated on the banks of the River Ganges in the Indian state of Uttar Pradesh, 320 kilometres (199 mi) southeast of state capital Lucknow. It is regarded as a holy city by Buddhists and Jains, and is the holiest place in the world in Hinduism (and center of earth in Hindu Cosmology). It is one of the oldest continuously inhabited cities in the world and probably the oldest of India. The Kashi Naresh (Maharaja of Kashi) is the chief cultural patron of Varanasi and an essential part of all religious celebrations.The culture of Varanasi is closely associated with the River Ganges and the river's religious importance. The city has been a cultural and religious centre in North India for several thousand years.
The Benares Gharana form of Indian classical music developed in Varanasi, and many prominent Indian philosophers, poets, writers, and musicians resided or reside in Varanasi, including Kabir, Ravidas Their Guru Swami Ramanand, Trailanga Swami, Munshi Premchand, Jaishankar Prasad, Acharya Shukla, Ravi Shankar, Girija Devi, Hariprasad Chaurasia, and Bismillah Khan. Tulsidas wrote Ramacharitamanas here, and Gautama Buddha gave his first sermon at Sarnath located near Varanasi (Kashi). Varanasi is home to four universities: Banaras Hindu University, Mahatma Gandhi Kashi Vidyapeeth, Central Institute of Higher Tibetan Studies and Sampurnanand Sanskrit University. Residents mainly speak Hindi and Kashika Bhojpuri, which is closely related to the Hindi language. People often refer to Varanasi as "the city of temples", "the holy city of India", "the religious capital of India", "the city of lights", and "the city of learning."
Mishras Press release:
Very rare to see three generation master musician's on same stage.
11th GENERATION FATHER AND SON SITAR MASTERS of Benares Gharana
From their home city of Benares, an ancient spiritual centre of traditional music and Indian culture, "The Mishras" are bringing classical North Indian Ragas and meditative music to the world audience, gifting the audience with a fabulous performance and a spiritual experience. Join this father and son duet of two of the worlds finest Sitar Artist and Prashant Mishra on Tabla grandson of Pandit Shivnath Mishra as they inspire one another to new levels of loving interplay.
PANDIT SHIVNATH MISHRA
Pandit Shivnath Mishra was born on the 12th of October 1943, in Varanasi (North India). Also known as "Legend of the Sitar", he is the 10th generation of the prominent Benares Gharana lineage of top class singers including Pandit Bade Ramdas Mishra and Panditji Great Grand Father. Since childhood, his highly musical family could see signs of a masterful musician in him. When Panditji was five years old, he began studying vocal music with his father, Badri Prashad Mishra, and his uncle-guru, Pandit Mahadev Prashad Mishra. However, when he was eight his musical inclination led him to study the sitar. In a family of great classical Indian vocalists, he was the first one who mastered the sitar.
Due to the vocal influence from his family as well as the Benares Gharana tradition, he is one among few artists in Contemporary India who 'sing inside' while playing a musical instrument. His lively, powerful and unique style has praised him with innumerous titles by the most representative authorities and institutions of music in and outside India. In 1966, when he was only twenty-three, he received a gold medal in the All India Music Conference, in Calcutta.
1979 marks the beginning of his performances abroad. Sine then, he has been constantly on tour in many foreign countries, among them Germany, Italy, France, Luxembourg, Switzerland, Austria, Japan, Holland etc. In 1999, he gave his first concert in the USA and Canada. During his tours, he has performed with several international jazz artists such as John Handy, Paul Horn, David Freezen, Ben Conrad, Berred Kworrase, George Figgler Aimester among others. Moreover, he participated in many conferences and recitals including the Condolence Metal of Late Prime Minister Mrs. Indira Gandhi, in Germany. He also took part in programs broadcast by the BBC Television and the German Radio.
Being one of India's premiere sitar artists of all times, Pandit Shivnath Mishra was the Head of the Music Department at the Sampurnanand Sanskrit University of Benares, in Varanasi, for 36 years. At this time, in 1994, he formed the "Music of Benares" which consists of a group of North Indian (Hindustani) classical musicians whose aim is to familiarize audiences all over the world with Hindustani music in general and the Benares Gharana in particular. What is characteristic of the Benares Gharana is exactly the singing of the Thumri, a light Indian classical music that is highly ornamental and thus very emotional and expressive. At a time when many different Gharanas mix with each other, the "Music of Benares" group keeps this ancient tradition alive.
Incorporation of this style with the "Jugalbandi" presentation, in which there are two solo artists sharing the stage, has created a unique synthesis of classical and folk that appeals to audiences everywhere. But this is not just Jugalbandi, this is a duet between a Guru and his Shishya (disciple) and, in this case, between father and son. Seeing this special interaction on stage is no doubt an unforgettable and mesmerizing experience.
Deobrat Mishra – biography
Deobrat Mishra is no doubt one of the most energetic and innovative sitar artists of India. Selectivity, melody and rhythmic complexity are typical features in his lively playing style.
Born in 1976, he represents the 11th generation of the Benares Gharana tradition. As a young child he studied tabla with his mother, Pramila Mishra, who is the granddaughter of the well-known tabla player Pandit Baiju Mishra. He started by studying vocal music with his father at the age of five and began his sitar lessons a year later. That same year, after only six months of studying the sitar, he gave his first public performance on stage. Five years later, he performed for the first time on the All India Radio.
Since 1994 he has been touring throughout Europe with his father. In the same year he was chosen to receive the award of the best young sitar player of India. In 2000 he received the "Jewels of Sound Award" in Mumbai. His many projects include music workshops, solo performances for radio and television as well as world music programs with Indian and European artists. Moreover, he is the one in charge of cultural events and music lessons provided by the Academy of Indian Classical Music, the school he founded along with his father, Pandit Shivnath Mishra, in 2006.
Recently, he received a Masters degree in sitar from the Prayag Sangit Samiti in Allahabad. Among many other projects, the Mishras performed and recorded their music with the Western Symphony Orchestra of Italy in 2005. Nowadays, they fully dedicate their art to similar projects including annual tours around the world.
Above all, the Mishras (father and son) serve as two of India's leading cultural ambassadors of our times
Prashant Mishra is one of the best young Tabla player of benares music tradition. When he was five he started to learn tabla with the family member of Biru Mishra of Varanasi also studying Tabla presently with Mr.Chakkan lal Mishra(Student of Great Tabla player Anokhelal Mishra..
Soon after few years of hard practice with his grandfather Pandit Shivanath mishra and uncle Deobrat mishra he was able to perform with Mishras His skills beautifully compliment and support the Mishras in their concerts.
http://timesofindia.indiatimes.com/topic/Aviral-and-nirmal-flow-of-the-Ganga/news
In 2004 he won first prize in Tabla competition organized by Sangeet Natak Academy Uttar Pradesh India. He received many awards for his tabla playing at many different places. The Mishras tour will help to support the Academy Of Indian Classical Music School in Varanasi, India.
Additionally, the Mishras support their Academy of Music in Benares, India where they keep alive the tradition of their music amongst young musicians. Every January and February, the Academy is open to international students of all ages and skill levels. These study tours to India are a cultural experience combining ashram style living and intensive music instruction in one of the world's oldest cities.
Visit: www.benaresmusicacademy.com

For more information, contact Deobrat Mishra: mishramusic@hotmail.com
Visit our website: www.music-of-benares.com


http://www.gangaaction.com/index.php
http://aviralnirmalganga.blogspot.co.at
http://www.indiawaterportal.org/event
#Previous #articles #videos #benares #gharana
#Previous #articles #save #ganga  #water #humanrights
Note: Mishra or Misra (Hindi: "मिश्र" "मिश्रा") is a Hindu Brahmin surname found mostly in the northern and central parts of India. It is one of the most widespread Brahmin surnames in the fertile Gangetic plain region and in the Indian states of Delhi, Bihar, Uttar Pradesh, Uttarakhand, Madhya Pradesh, Rajasthan, Orissa, Assam and West Bengal. It is also found in countries such as Guyana and Trinidad and Tobago under the anglicized version of Misir, due to migration owing to agricultural/plantation employment. The surname is also found in Nepal, Fiji and Mauritius, as well as in other Indian diaspora communities.
In Hinduism, Brahmin refers to the class of educators and preachers. It is the highest class in the caste system. There are many references in the Ramayana and Mahabharata about the importance of a Brahmin. In the Vedic period, the Brahmins preferred isolation and solely dedicated their life to propagating knowledge and Dharma. However Misras have historically been martial Brahmins and in earlier years, many were drafted into the army.